The 2015 ISRSF Arryman Fellows Symposium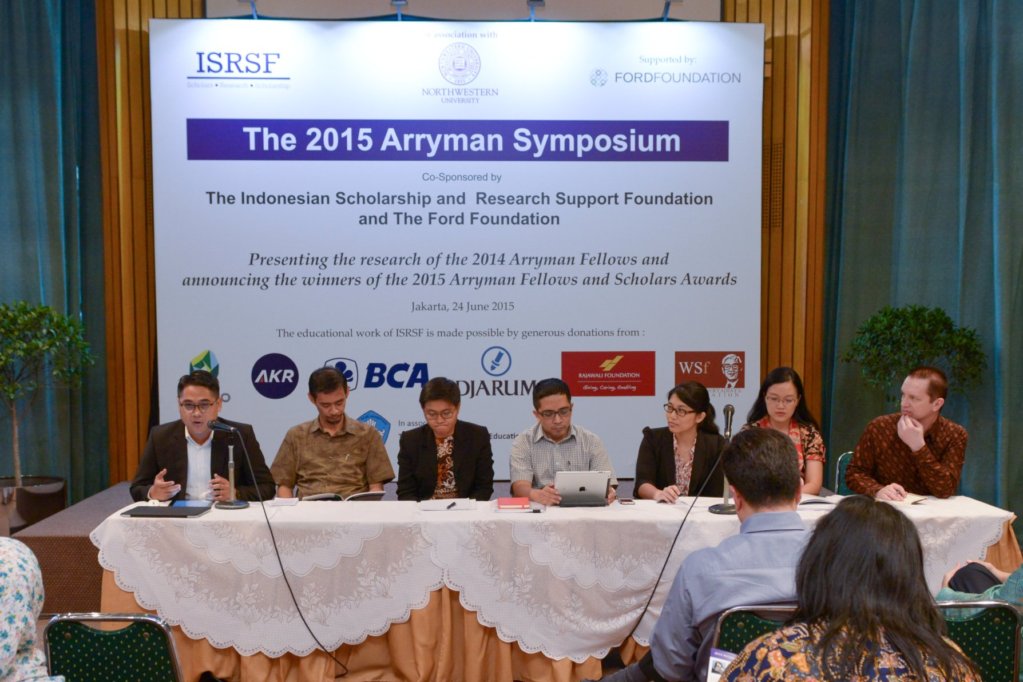 ISRSF proudly present the 2015 Arryman Fellow Symposium on the 24th June 2015 at the Ford Foundation Auditorium, Jakarta. The Symposium was intended to present the researches done by the 2014 Arryman Fellows, Sabina Puspita and Yoes Kenawas, who are in the doctoral program in political science, and Wara Urwasi, who is doing her doctorate in sociology.
During the discussion for the papers, there were a number of great questions from the audience, which included several of the major corporate and foundation donors for the Arryman program, such as Victor Hartono of Djarum, as well as representatives from BCA, Adaro, AKR, the William Soeryadjaya Foundation, the Ford Foundation, and the Rajawali Foundation. The discussion also brings new perspectives and critiques for the Fellows, who have since become Arryman Scholars, to get their researches in the following years even better.
After the presentation and discussion, ISRSF, represented by Prof. Jeffrey Winters, presented the 2015 Arryman Fellows, Sindhunata Hargyono and Norman Joshua, to the audience. These two great minds will do their research ( History) in Northwestern University and will present the result in next year's symposium.
Do you want to be one of the four people who we will present as the 2016 Arryman Fellows? Navigate our website to find out the requirements and more information on the scholarship. Good luck and see you next year!