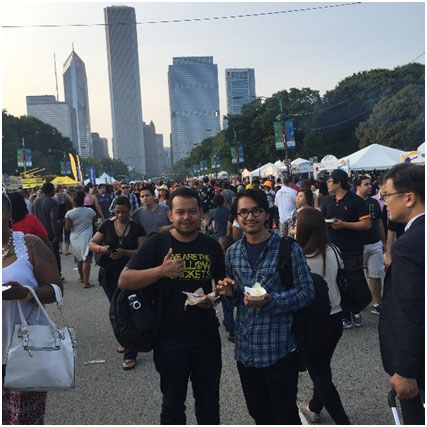 After landing safely last month, our Arryman Fellows have been busy! They have been going out and about Chicago and Evanston.
Grant Park was the first stop for Norman and Shindu as they attended the Tastes of Chicago, an annual culinary festival that celebrates the city's diverse culinary selections. There are hundreds of restaurants, stands, and various other kinds of food vendors from all over the Windy City. They also got to taste some Tamales and Paletas popsicles, which are authentic Mexican foods.
Posted: August 16, 2015
---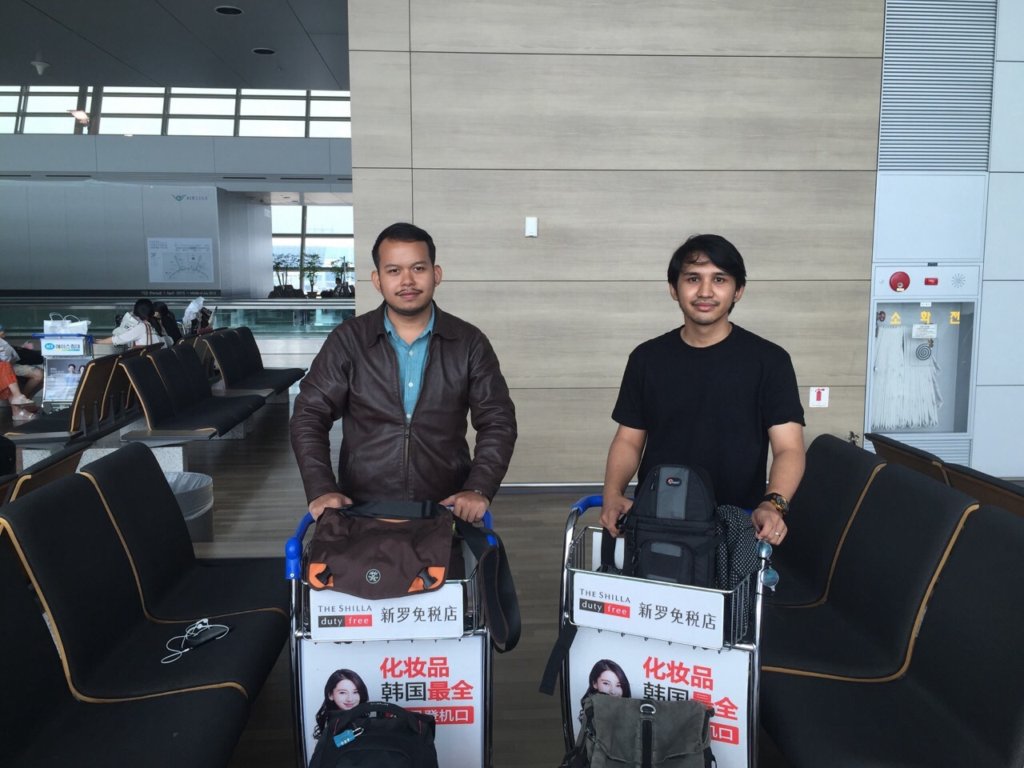 After being unveiled at the 2015 Arryman Symposium, this year's fellows, Sindhunata Hargyono and Norman Joshua are on their way to Chicago. Both of them have departed for the Windy City on July 1st via South Korea. While there have been a number of difficulties in the US Embassy Consular on issuing visas to enter the States, the Arryman Fellows were few of the lucky ones and got their visa fast-tracked because they have to depart by the first of July. Hence, in 24 hours their visas were issued and go they went to Chicago.
Posted: July 9, 2015
---
ISRSF proudly present the 2015 Arryman Fellow Symposium on the 24th June 2015 at the Ford Foundation Auditorium, Jakarta. The Symposium was intended to present the researches done by the 2014 Arryman Fellows, Sabina Puspita and Yoes Kenawas, who are in the doctoral program in political science, and Wara Urwasi, who is doing her doctorate in sociology.
Posted: July 5, 2015
---
In 19 June 2015, ISRSF held a discussion at @america, Pacific Place Mall, South Jakarta. The agenda of the seminar is to introduce the candidates of next year's Arryman Fellowship to the nature of the scholarship. Also, the seminar is held to celebrate the opening of the general application for the 2016 ISRSF Arryman Fellows Scholarship.
Posted: July 5, 2015
---
The three 2014 Arryman Fellows whose are Kadek Wara Urwasi, Sabina Satriyani Puspita and Yoes Chandra Kenawas, have already been accepted at Graduate School Northwestern University. Kadek was accepted in Sociology, and both Sabina and Yoes were accepted in Political Science.

Posted: May 17, 2015
---
By the end of March 2015, the selection committee of Arryman Fellows has made an announcement for the winners of 2015 Arryman Fellows. They are Sindhunata Hargyono and Norman Joshua, both were graduated from University of Indonesia majoring in Anthropology and History respectively. Norman was the 2nd winner of 2014 ISRSF History Essay Competition so that he got a golden ticket for direct interview with the Selection committee of the Arryman Fellows.
Posted: May 16, 2015
---
As part of our endeavor to recruit the most promising candidates for Arryman Fellowship, in 2014 ISRSF conducts two essay competitions. The Prize Awarding Ceremony to the essay Winners and Honorable Mention were held on Thursday, February 12, 2015. The ceremony were attended by the Media, The Panel Judges, Foundation Board Member, The Winners and Honorable mention.
Posted: February 14, 2015
---