Sari Damar Ratri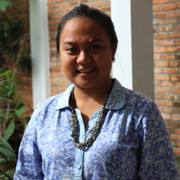 [Anthropology]
Grants and Award
LeCron Foster & Friends of Anthropology at Northwestern 2018
Research Grants Competition, Northwestern University
The Graduate School Conference Travel Grants November 2018
LPDP Awardee 2018-2022
Conference
Present her research in some conferences such at The 117th American Anthropological Association Annual Meeting in San Jose, California, Nov 14-18.
Presenting at the panel (3-0960): "The new face of global health? Innovative technologies and entrepreneurial solutions." and The 21st  Chicago Ethnography 2019 at Northwestern University, Evanston, Illinois. March 15
Presenting at the panel (Session 5): "Gender, Family, and Culture."
She will present her writing in The 7th  International Symposium of Journal of Antropologi Indonesia
Panel organizer at the panel (20): "Governmental Practices in Indonesia: Non-calculative Modality, State Power, and the (Im)possibility of Politics."
Publish Article
Second Author "Emotive Politics: Islamic Organizations and Religious Mobilization in Indonesia," Contemporary Southeast Asia: A Journal of International and Strategic Affairs. Vol. 20. No. 2  (2018): 196—221